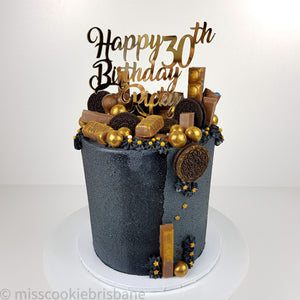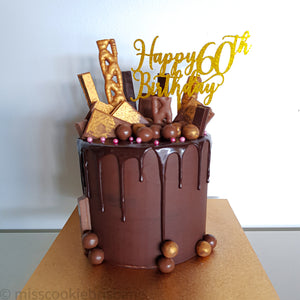 ALLERGENS: CONTAINS WHEAT (GLUTEN), MILK, EGGS. 

Payment
Full payment is required at the checkout in order to submit your order. Cancellations will not be accepted once the order has been placed.
Miss Cookie Brisbane will not be responsible to damages on the product after it is received/picked up.
Handling and Storage
It is best to keep products on the floor of your vehicle during transportation.
Cakes should be stored in the fridge. They should be taken out from the fridge at least 1 hour before serving. Leftovers can be kept freshly in the fridge during next 4-5 days.
Please be careful cutting the cake. Some cakes have food safe wooden or plastic dowels inserted into the cake for stability.
A must have cake for all lovers of chocolate, coming in Snickers, Oreo, Maltesers and just about any of other sweet chocolate treat you can imagine!
This sweet chocolate loaded cake would be perfect for a baby or bridal shower, a birthday party, Valentine's Day, or an Anniversary.